Chuwi VX3 Octa Core MTK6592 1.7GHz 7 inch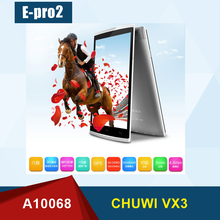 Chuwi VX3 Octa Core MTK6592 1.7GHz 7 inch 3G WCDMA Tablet PC Android 4.4 1920x1200px 8.0MP Camera GPS Bluetooth Play Store Click here or Image to Buy and
check price! About $220…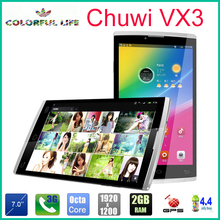 7 inch Chuwi VX3 Octa Core MTK6592 1.7GHz Phone Call Tablet Pc FHD 1920×1200 2GB RAM 16GB 8.0MP Camera WCDMA GPS Click here or Image to Buy and
check price! About $185…
It is a phone, not a tablet or is it?
7 inch Chuwi VX3 Octa Core MTK6592 1.7GHz Phone Call Tablet Pc FHD 1920×1200 2GB RAM 16GB 8.0MP Camera WCDMA GPS
Review below; this is probably the best tablet for the money on the market, bar none. It is Octa Core – and it is fast. Below is my review of this fantastic tablet and it is my daily driver…
Item specifics:
Item Type: Tablet PC
Tablet Data Capacity ROM: 16GB
Network Communication: Built-in 3G, Bluetooth, Wifi
Screen Size: 7″
Extend Port: DC Jack, Earphone Jack, Mini USB, MMC Card, OTG, TF card, USB
Brand Name: Chuwi
Package: Yes
Net Weight: 256g
Supporting Language: English, Russian, Spanish, Swedish, Portuguese, Turkish, Italian, German, Chinese, French, Japanese, Polish, Ukrainian, Greek, Hebrew
Camera: 2.0Mp front camera, 8.0Mp back camera
Processor Manufacture: Rockchip
Touch Screen Type: Capacitive Screen
Processor Main Frequency: Octa Core
Feature: GPS, Multi-Touch, HDMI, G Sensor, Phone Call, FM, OTG, Dual Camera
Memory Capacity apps: 2GB
Second Webcam Pixels: 8MP
Operating System: Android 4.4
Display resolution: 1920×1200
Cell Capacity: 3000mah
Processor Model: MT6592
Size: 7 inch 1920×1200 display screen
RAM Memory Capacity: 2GB DDR
ROM: 16GB
CPU: MT6592 Octa core 2.0GHZ
OS: Android 4.4.2
Battery: 3000mah
Model Number: Chuwi VX3
Review:
I bought this tablet from AliExpress, I was curious as to the abilities of said tablet. It seemed just too good to be true and I decided to try it out. I had prepared myself for a let down. Most tablets are just not up to what the manufacturer wants it to be and as I stared at my Tab 2 from Samsung, I was reminded that even the big boys make terrible tablets also…
It arrived in a timely manner, not as fast as I appreciate, being an American, but living in Russia, I have learned that postal service is lacking to say the least. Coming from China does not help. Patience is the keyword. Therefore, after I forgot about it, the package arrived. It was like Christmas and Santa left a gift that you did not expect or you forgot about, under the tree. What came next was a total shocker…
The tablet is thin, it does have an Octa Core, it does have 2GB of RAM, It is fast, it is smooth, it does have 16GB of ROM, It does have a 1920X1200 resolution, and it is what it says it is…
I rooted it immediately (VRoot) and found it fairly clean as far as the junk app section goes. In fact rooting was not necessary for many junk apps just deleted as they were not system related. Therefore, rooting is your choice, but I root everything Android…
I can honestly say that it exceeded my expectations on everything but camera and launcher. The camera is typical of Chinese cheap cameras, terrible and the home launcher, which is a derivative of Launcher3 is pathetic to say the least. Activate Google Play and get anything (launcher) that makes you happy, for this particular launcher, will not make you happy. Oh, as a thought, the front camera does just fine for quick selfies and Skype…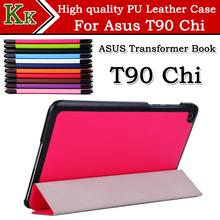 CHUWI VX3 Smart Cover Fashion Slim PU Leather Folio Sleep Case Stand For Chuwi vx3 /vx1 7″ Tablet PC FreeShipping+in stock
I have not been able to put it down for days and have discovered that this is probably the most versatile tablet I have ever owned and I have owned a bunch. I have broke and crushed many and I should really get a tough tablet, but that is one day. For now I am glad that I tried this tablet and have just ordered a case for it. The case is magnetic and will allow the tablet to be activated on opening the case. The case is to help protect the thing. For it seems that it could be delicate and I am kinda rough…
32000+ on AnTuTu and while not with the big boys, it is impressive. The screen is a delight to view and responsive is the keyword for this tablet…
Final Words and Conclusion:
Pluses:
* Price – Best buy for the money…
* Screen – bright, rich, juicy, vibrant, colors…
* Battery – day average use enough…
* GPS – catches a tenth of a kick, even on the couch – five meters from the window manages to find and connect
* Ability to make calls. And 3g, of course
* Wi-Fi – works good…
* FM RADIO: Anywhere, even at the office. the site is not specified, but it is! And by the way, the only truly beautiful and user-friendly application of the entire firmware Android…
* Functional camera application…
* Powerful…
* Just comfortable. Even fit into the inside pocket of your jacket :)!
Disadvantages:
* Reset button / Power – on the left. Not very convenient…
* No back-light buttons back home and setting – poke almost at random…
* No LED charging…
* Stinky launcher! It even Urgh! … no words. I can not express my feelings! Full hat! Even put Apex launcher, happy as a dog by the fireplace. It is possible that the battery drain is the stock launcher, because on Apex it keeps battery for a long time…
* Camera – More precisely, its interpolation and very Chinese…
* SD Card situation sucks, must get root and apply app to redirect workings of SD…
* No Case available without the help of China of course!
VERDICT – It is not a Tablet, it is a Phone and a powerful one at that – Chuwi VX3 or Maximus S1 designed by SENKATEL)
Once again – battery – normal! You can buy it now!
kEETON
[gwidget widget="Ali_Products" params="title=&atitle=0&order=date&display=/app/views/custom/products-small.php&count=3&cat=9″]